You've heard of unicorn toast and unicorn frappucinos but what about unicorn cheese??
Turn the colorful rich milk of a unicorn (okay, maybe just the white milk of a cow) into bright and luscious ricotta in this hands-on whimsical, yet scientific class with a focus on entertaining, teaching and delighting the kiddos (age 5+).
In case you're worried about all that disgusting food coloring, fear not! We at FARMcurious believe food should be natural, not toxic. We'll show you how to craft your own beautiful (and nutritious) colors out of nutrient-dense food! Now you have the added benefit of tricking your kids (and friends) into getting their daily value of parsley, turmeric, beets and more!
Is it still delicious you ask?  You bet your glittery bottom it is!
What will we unicorn next??  Who even knows but this is a class not to be missed. Book your tickets before they're gone!
Tickets: Please be sure to purchase the correct ticket based on how many members of your household will be joining us on the same screen.
Location: Zoom
Note: Children must be assisted by an adult.
To follow along in this class you'll need to have on hand:
Ingredients:
You'll want to have the following on hand per color of cheese you'd like to try (up to four) For example, if you'd like to make two colors, double the amount. Triple the amount for three colors and so on:
3 1/2 cups whole cow's milk (any kind

 

except the shelf-stable UHT stuff)
1/2 cup heavy cream (avoid any with additives like guar gum, carrageenan, etc) You could technically skip this for a lighter ricotta but I don't recommend it flavor- and texture-wise.
4 TBSP lemon juice (store-bought in the bottle or fresh) plus 3-4 extra TBSP just in case. Make sure you've squeezed lemons in advance of class if using fresh.
1 tsp salt (any kind you like)
Choose your colors!

Pink - one cooked beet (boiled or steamed until fork-tender)
Purple - 1/4 purple cabbage, shredded
Yellow - powdered turmeric
Green 1/4 cup very finely chopped parsley

Optional: Baguette or crackers for enjoying your finished ricotta; fresh tomatoes would be amazing too.
Tools & Utensils:
Butter muslin

 (one 18" square piece per color of cheese you choose to make)

Thermometer 

(

must reach up to 190°F)
Large spoon to stir the milk. We like this 

one

.
1 gallon pot (1 pot per color of cheese you choose to make)
Stove or heating element (1 burner per color of cheese you choose to make)
Colander fitted over a bowl which will hold 1 quart or more (1 per color of cheese you choose to make)
Measuring cups and spoons for ingredient measuring in quantities noted above
This is part of the FARMcurious Follow-Along Virtual Event (FAVE) Series - our response to the COVID-19 crisis. Thanks for helping to keep our lights on during this crisis.
Interested in a private cheesemaking party via Zoom? We now offer private events for birthdays, bachelorettes, etc. We also offer team-building workshops for businesses and special interest groups (like parent's clubs, scout troops, etc), all via Zoom.
We'll send each person a very easy supply list ahead of time as well as recommendations on setting up your kitchen for a virtual cheesemaking workshop. We can even send supplies directly to each participant to make things easy. Contact Nicole directly for more information at nicole@farmcurious.com.
Please consider backing FARMcurious on Patreon
Do you love this sort of content? We just launched a Patreon campaign and our Patreon backers have the opportunity to see all of our content first. They also have first access to live-streaming workshops before we open them up to the public. At certain levels, workshops like this one are included in your membership. You can back us for as little at $5 a month so please check out our Patreon here.
---
Related Products
---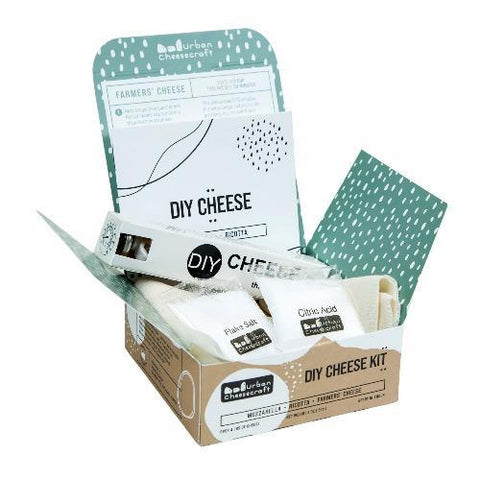 ---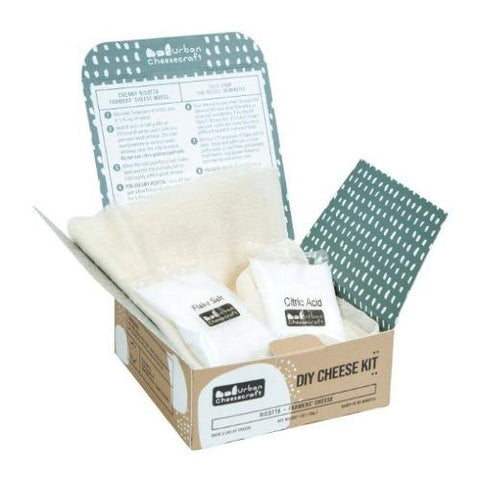 This Mini Cheese Kit from Urban Cheesecraft is the perfect starting point for beginners, kids and busy families. It is easy and quick to use but it is packed with fun and delicious possibilities.
$ 15.00
---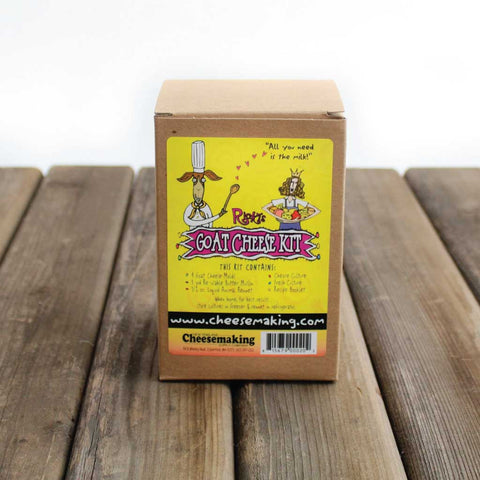 This goat cheese kit allows you to make the easiest, and most delicious fresh, creamy goat cheese you can imagine!
$ 29.95