Due to covid-related enrollment challenges, we are no longer offering public workshops. Please consider joining us for a private cheese event. If you have a group of friends (or work colleagues) who would like to learn together, it would be my pleasure to put together a proposal for you.  Email info@farmcurious.com You can read more about our closure here.
CLICK HERE to view our full list of events in calendar format.
Learn to make three distinct and delicious types of cheese: mozzarella, chèvre (fresh goat cheese) & burrata. During the class, you'll enjoy an extraordinary sampling of local and sustainable wine in this fast-paced, hands-on workshop. This three-hour class walks you through the history of cheesemaking, important facts about milk quality and differences as well as the complex biology and chemistry behind turning milk into tasty cheese curds and protein-rich whey.
Upon arrival, you'll be greeted with a gorgeous glass of bubbly to pair with the fresh goat cheese we've prepared and flavored for you. 
Once everyone is settled, we'll jump right in and demonstrate (in a time-lapse fashion) how to craft a fresh, tangy goat cheese along with tips to make your goat cheese appear as several different types of artisanal cheeses through various preparation techniques. You'll even learn to work cheesemaking into a busy lifestyle.
Next, we'll separate into groups to make glorious mozzarella. Each group of 2-5 people will start with a gallon of milk and finesse it over the course of the class into rich, stretchy mozzarella. Enjoy some of your finished mozzarella, while we turn the rest into creamy, dreamy burrata. There's just nothing like fresh mozzarella and burrata which have not yet been refrigerated!
In case you were worried about going hungry, we'll be sampling cheese and delicious wine all along the way. Check out the wines by Wente Family Estates that we're featuring here.
This workshop is taught by Nicole Easterday, the founder of FARMcurious. Nicole is an engaging teacher who encourages a fun, social environment while she explains what's happening in a very down-to-earth format. 
Attendees will leave the Three Cheeses in Three Hours class with:
A new appreciation for the magic that is cheese
Confidence and knowledge to reproduce the same results at home.
Handouts including recipes, frequently asked questions, and resources.
Delicious, versatile whey we produce while making the cheese (don't worry, we'll explain how to use it - you can't wait, check out this blog post).
Ideas for a few fail-proof, local and sustainable wines to pair with cheese – never again at a loss before a dinner party!!
Fun memories with loved ones
About our groups:
We're currently offering two group options:
Personal Pods - This is a private table for you plus up to 4 of your friends in a pod (read about our pods here). Each pod will have its own table and shared pot so you'll want to bring friends you're comfortable sharing food with. Everyone must show proof of vaccination.
Shared Tables - If are unable to secure your own pod and you feel completely comfortable sharing a pot of cheese with a small group of vaccinated strangers, this option might be for you. Please keep in mind each person in your group will be in relatively close quarters, manipulating the cheese together. We'll make every effort to keep it clean and sanitary but you're still sharing. 
Everyone must show proof of vaccination.
Terms and Conditions - By attending a FARMcurious event, you agree to our Terms and Conditions.
 COVID-related information:
Proof of vaccination status will be required to participate. Please note, we'll make every reasonable attempt to verify vaccination status of each person in your group, but we ask you to realize it's not a perfect system. Any risk related to attending this activity is your own.
We run the class with windows open (weather permitting) and HEPA filters constantly circulating the air.
Please note that all attendees must be masked at all times except when actively taking a bite of cheese or taking a drink. Please stay home if you have a fever, are experiencing any COVID-like symptoms for may have been exposed to someone diagnosed with COVID-19.
Rates: Our Early Bird Rate generally lasts until two weeks before the class, at which point the rates increase. In some high-demand cases, the rates may increase before that point. Please book your tickets early!
This is the cheese workshop you won't want to miss!
"Nicole has a way of balancing her expertise with a welcoming and "anyone can do this" kind of vibe that made the whole experience delightful. The three hours flew and we learned a ton while also laughing, eating, and coming away with the tools and confidence to do it at home. " - Jeanine B.
"I can't say enough great things about my FARMcurious class and its founder, Nicole. I'm a cheesemonger through and through and I loved every bit of Nicole's class. She diligently explains the science behind the process so that you aren't just following directions but understanding what makes cheese cheese. All the while she feeds you her own freshly made chevre and some wine. We made friends, learned a new culinary skill, and had a blast. It was delightful!" - Allison S.
YELP users love this class - check out more glowing reviews here.
Location: Please see the options in the drop down menu.
If you use Facebook, be sure to join our event here to access photos and messages about class.
Must be 21 or over to attend. Please see our cancellation policy here.
Sold out?? Try our waiting list! If your desired date is sold out it will be marked "Wait List Only" for a $50 deposit. If you book a ticket labeled "Wait List" your pod will be added to the waiting list for the sold-out date. If we have any cancellations we will contact you immediately to let you know. If you make it into the class, we'll contact you to pay the remaining amount. If you don't make it into the class for which you signed up on the waiting list, you can choose a full refund of the $50 deposit or a you can apply it to another date and we'll contact you to pay the difference. Call or email for more information on our waiting list (info@farmcurious.com or 510.877.9955).
Interested in a private event? We offer private events for birthdays, bachelorettes, etc. We also offer team-building workshops for businesses and special interest groups (like parent's clubs, scout troops, etc). Contact Nicole directly for more information at nicole@farmcurious.com.
---
Related Products
---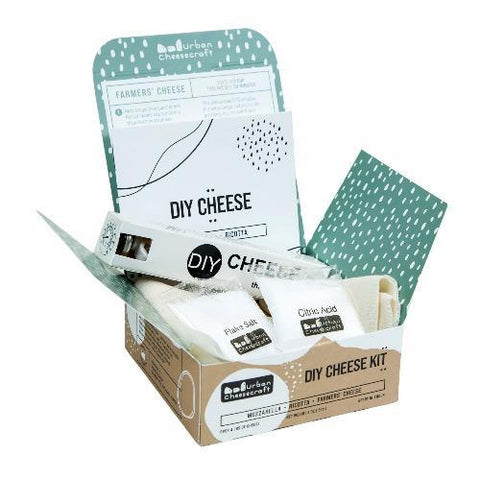 ---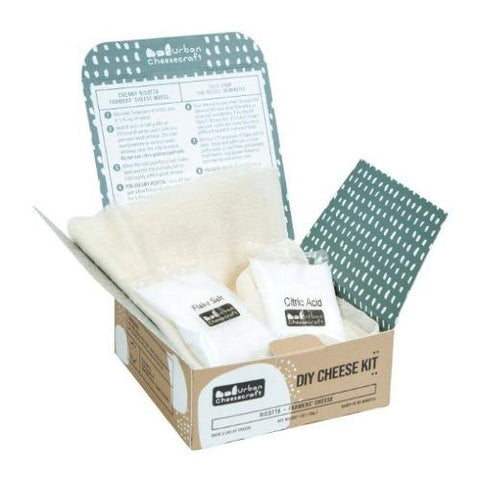 This Mini Cheese Kit from Urban Cheesecraft is the perfect starting point for beginners, kids and busy families. It is easy and quick to use but it is packed with fun and delicious possibilities.
$ 15.00
---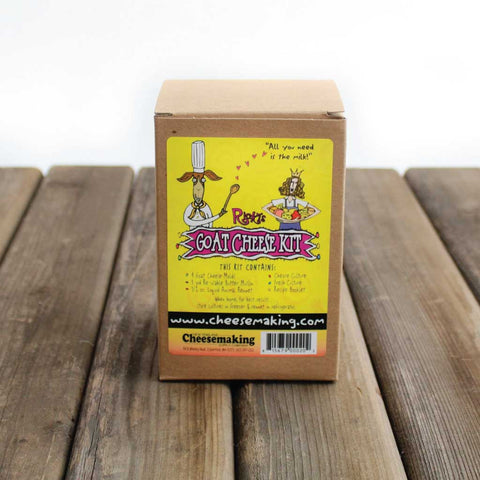 This goat cheese kit allows you to make the easiest, and most delicious fresh, creamy goat cheese you can imagine!
$ 29.95