Spicy Pickles and Condiments and Cool Yogurt and Labneh with Kirsten Shockey and Karen Solomon.
Fermented foods are excellent for health, but many home cooks struggle to incorporate the funky flavor into everyday meals. Join us for this meeting of the fermentation minds to acquire new kitchen fermentation skills and how to put those foods on the table in new, delicious ways. 
FIRE: Kirsten Shockey, author of Fermented Vegetables, shows you the way the world ferments food with a spicy kick. Following research from around the globe for her new book, Fiery Ferments, Kirsten is armed with an arsenal of delicious ways to add spicy fermented food to every dish you enjoy. After discussing her research and techniques, we'll roll up our sleeves and get to work creating Basic Fermented Pepper Mash that is the basis for many a pungent condiment, a Green Chile Salsa Starter, and Pineapple Habanero Syrup (to drizzle over yogurt ice cream or fried bananas). Her new book will be on sale.
ICE: What's the best way to balance out all that heat? Cool, homemade, probiotic yogurt and labneh (strained, spreadable active-culture yogurt that will forever replace the sour cream, cream cheese, cottage cheese, and farmers cheese in your kitchen). Karen Solomon, author of Asian Pickles, and Jam It, Pickle It, Cure It, will demonstrate the complete technique for crafting the easiest, creamiest, homemade yogurt at home. She'll also have you crafting (and eating!) delicious Garlic Cucumber Dill Salad and sweet Orange Cinnamon Spread. Guests will leave with ready-to-use knowledge and complete take-home instructions to make yogurt and labneh at home.
Class Structure: Part of the class will focus on the health, art and science of fermentation but most importantly answer your questions. After all, while many of want to learn this technique it is one that some of us need to see to feel comfortable with it. Let's face it—it is not intuitive to let something sit on the counter for days, watch it bubble, smell it brew, and then stick your fork into it and eat it. This class is for beginners and experienced fermenters alike while it aims to demystify this safe technique for creating healthy nutrient dense delicious foods you will be learning fermented condiment techniques that take fermented vegetables beyond sauerkraut.
You will put these skills to practice right away in the second half of the class, which will be all about creating your own delicious ferments to take home and age to perfection!
*This is a newly-listed class, eligible for Curious Club.
Date: Friday, July 14th, 2017
Time: 7-9pm
Location: 4053 Harlan St, Ste 201 in Emeryville, California (right across the street from Pixar) - plenty of safe free parking available. Easy access to public transit -from MacArthur BART take the red or orange (Hollis or Hollis South) Emery-go-Round bus line two stops to Pixar studios. Walk half a block to our venue). 
Please see our cancellation policy here.
**If you are buying the two-person package for this class, please include the additional person's name in the notes when you check out**
Get your books signed!
Bring your copy of Fermented Vegetables or Fiery Ferments,to be signed by the author, Kirsten Shockey, or buy a new copy of one of her books for signing.
Bring your copy of Asian Pickles, Can It Bottle It Smoke It or any of Karen Solomon's other fantastic books to be signed by the author.
The first portion of this class is taught by Kirsten Shockey, author of Fiery Ferments and Fermented Vegetables. Kirsten got her start in fermenting foods with her farmstead food company, where she and partner Christopher Shockey developed over 40 varieties of cultured vegetables and krauts. Their current focus is on teaching the art of fermenting vegetables to others through classes and workshops. Kirsten blogs at ferment.works and lives in the Pacific Northwest.
The second portion of this class is taught by Karen Solomon, author of Asian Pickles. Karen Solomon has been a well-published food writer for over a decade. She's also author of Jam It, Pickle It, Cure It and Can It, Bottle It, Smoke It (Ten Speed Press/Random House). Additionally, she's the author of The Cheap Bastard's Guide to San Francisco (Globe Pequot Press), contributing author to Chow! San Francisco Bay Area: 300 Affordable Places for Great Meals & Good Deals (Sasquatch Press), and a former contributing editor to Zagat Survey: San Francisco Bay Area Restaurants.
YELP users love our classes - check out more glowing reviews here.
Sold out?? Try our waiting list! There may be available dates that aren't listed because they're sold out. If you book a ticket labeled "Waiting List" you will be added to the waiting list for the sold-out date. If we have last minute cancellations we will contact you to let you know. If you don't make it into the class for which you signed up on the waiting list you can choose a full refund or a transfer to another date. Call or email for more information on our waiting list (info@farmcurious.com or 510.877.9955)
Interested in a private party? We offer private events for birthdays, bachelorettes, etc. We also offer team-building workshops for businesses and special interest groups (like parent's clubs, scout troops, etc). Contact Nicole directly for more information at nicole@farmcurious.com.
---
Related Products
---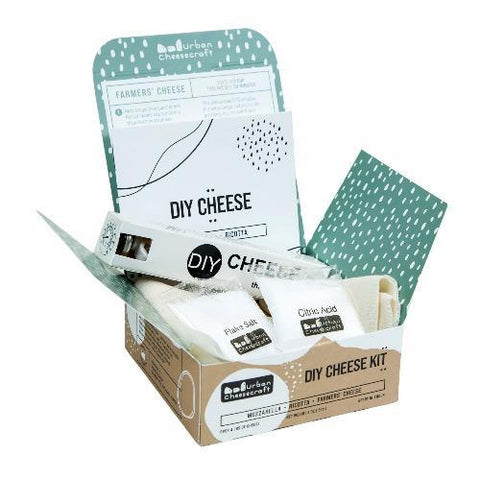 ---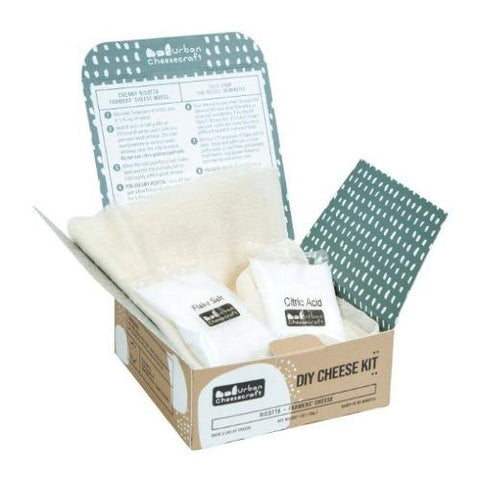 This Mini Cheese Kit from Urban Cheesecraft is the perfect starting point for beginners, kids and busy families. It is easy and quick to use but it is packed with fun and delicious possibilities.
$ 15.00
---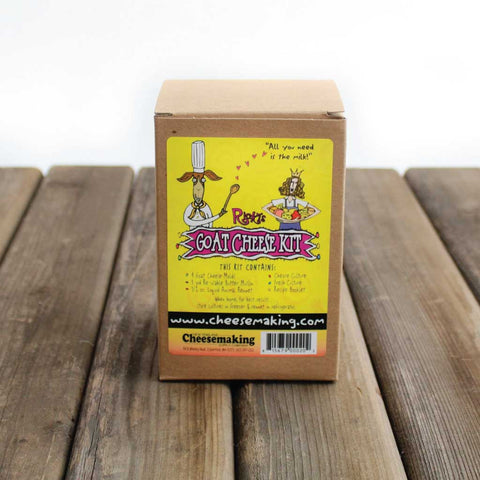 This goat cheese kit allows you to make the easiest, and most delicious fresh, creamy goat cheese you can imagine!
$ 29.95