We're putting the 'cute' in Charcuterie! The perfectly delicious holiday replacement for the old inedible gingerbread house. This Charcuterie Chalet (Fromage Cottage?) is meant to be devoured and will make your holiday table worthy of the best of Instagram photos.
Maybe you've mastered the charcuterie board and the cheese plate and are looking for the next thing to conquer...maybe you just love things that are cute as could be and showing off a bit. This chalet is sure to delight!
I'll send you a list of everything you'll need ahead of time as well as links for purchasing any of the harder-to-find items. The aim is to keep it fairly flexible so you don't have to stress about finding too unusual items and you can flow with what you have.
You'll make your own chalet live in class with us but there's more. I'll be showing all the formats I've played with over the past several weeks to give you even more  unique ideas for your next chalet. This is going to be so much fun!
Date: Sat, Dec 12, 2020
Time: 11am-12:30pm pacific
Location: Zoom
To follow along in this class you'll need to have on hand:
Ingredients 
For the house base, you'll want to have one of the following:
Make the edible cracker base using our recipe, design and tutorial (sent to you the week before class). Don't worry, it's pretty simple. However, if you're not into making it, you can purchase it as an add-on to your ticket. Yes, it's pricey (shipping is included) - because I don't want to be in the business of baking crackers but I do want to help you get straight to the fun part. ;-)
OR
Buy a commercial gingerbread house kit and assemble the base. It's okay - we're going to cover it in more exciting things and no one is going to eat it anyway.
PLUS:
16 oz Cream Cheese (this will be your glue)
1-2 cups grated Parmesan cheese (this will be your snow)
8 oz goat cheese (for your snowman)
1 pack (or more!) prosciutto (trust me on this one)
1 package pre-cut salami (a small package should be good) for roof tiles
plus
Your choice of other mixed charcuterie like...

meat sticks
pepperonis
whatever you like!

Your choice of mixed cheese - pre-sliced squares are handy but if you're more into the artisanal stuff I recommend pliable cheeses like young goudas or alpine style cheeses. Young cheddars would work too.
Other odds and ends:

Colorful bits like pomegranate seeds, candy-coated sunflower seeds (try Trader Joe's), freeze-dried fruits like strawberries, dried and brightly colored apricots or pineapples, persimmons, etc
Herbs like fresh rosemary, thyme or lavender stalks
Fun bits like parmesan crisps, wasabi peas, pretzel sticks, crackers that look fun. Vary your textures and shapes.
Pickles, broccoli, carrots, zucchini, as desired to shape and create.
TOOLS & UTENSILS:
Board on which to stage your scene (cutting board, tray, cookie sheet, etc)
Tight-fitting food safe gloves
Knifes, forks, cutting boards, etc
Plastic wrap
This board will be ready to eat and best enjoyed the same day. Make sure you have room in your fridge (or cooler) to store it if you're not going to consume it within 4 hours.
This Follow-Along Virtual Event is $40 or get it for free by backing us on Patreon at the $25 level.
This is part of the FARMcurious Follow-Along Virtual Event (FAVE) Series - our response to the COVID-19 crisis. Thanks for helping to keep our lights on during this crisis.
Interested in a private cheesemaking party via Zoom? We now offer private events for birthdays, bachelorettes, etc. We also offer team-building workshops for businesses and special interest groups (like parent's clubs, scout troops, etc), all via Zoom.
We'll send each person a very easy supply list ahead of time as well as recommendations on setting up your kitchen for a virtual cheesemaking workshop. We can even send supplies directly to each participant to make things easy. Contact Nicole directly for more information at nicole@farmcurious.com.
Please consider backing FARMcurious on Patreon
Do you love this sort of content? We just launched a Patreon campaign and our Patreon backers have the opportunity to see all of our content first. They also have first access to live-streaming workshops before we open them up to the public. At certain levels, workshops like this one are included in your membership. You can back us for as little at $5 a month so please check out our Patreon here.
---
Related Products
---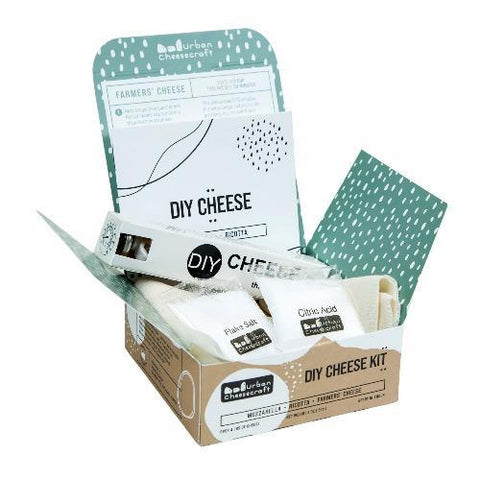 ---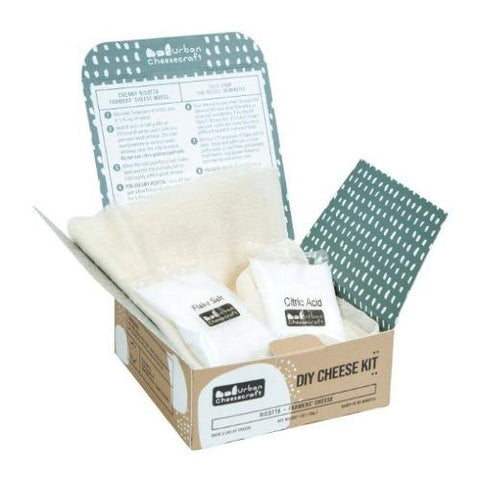 This Mini Cheese Kit from Urban Cheesecraft is the perfect starting point for beginners, kids and busy families. It is easy and quick to use but it is packed with fun and delicious possibilities.
$ 15.00
---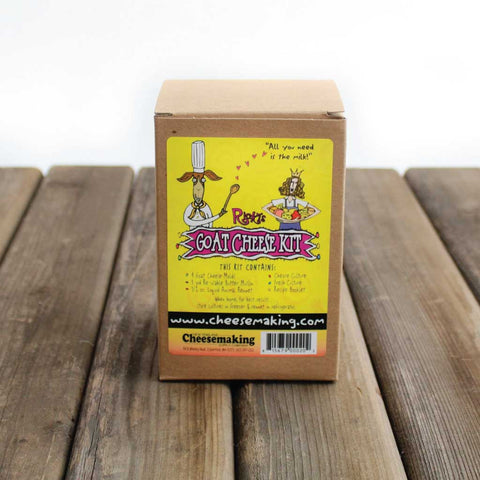 This goat cheese kit allows you to make the easiest, and most delicious fresh, creamy goat cheese you can imagine!
$ 29.95