CLICK HERE

 

to view our full list of events in calendar format.
Make show-stopping cheese that will have your friends gushing!
Learn to craft some of the most decadent cheese the world has to offer. Brie & camembert seem like magical cheeses but they're actually some of the easiest to make at home with very little special equipment required. We'll show you how in this two (or 3!)-day class, complete with edible homework. This format is really ideal for this type of cheese which needs a little work for two days and then very light maintenance for a couple of weeks before it's completed.
Day 1 has us starting the cheese, talking about the bloomy rind category and the science behind that gorgeous rind. You'll take care of your little cheese baby overnight per our instructions and then on Day 2 we'll do any treatments like adding ash or bark and talk about aging it to perfection over the next 3-6 weeks.
Day 3 (optional but recommended) - We'll check in 2 weeks later to take a look at your cheese's progress, address any questions/concerns you may have and make any necessary course correction. This check-in day is one of the most important parts since we'll do cheese aging forensics and get to the bottom of what's going on with each person's cheese! You learn the most by trying something on your own and coming back with relevant questions.
Tiny brie wheels make a show-stopping gift and one gallon makes 6-7 mini 4" wheels! 
Dates/Times Available:
May Series (plan on attending all three dates): 
Sat, May 21, 2022 from 12-2pm,
Sun, May 22, 2022 from 12:30-1:30pm, and
Fri, June 3, 2022 from 6-7pm

Recordings will be available for those who miss a class but we do recommend make it if possible since you'll benefit the most by being able to ask questions.
Location: Zoom; Log-in instructions will be sent a few days before class
To follow along in this class you'll need to have on hand (see our supply kits below):
Ingredients:
1 gallon un-homogenized whole cow's milk (make certain the milk is cream-top)
1 cup heavy cream (avoid any with additives like guar gum, carrageenan, etc) You could technically skip this for a lighter cheese if you like
Cultures & Rennet - either this all-inclusive set or one each of the following:
2 tsp salt (any kind with no additives)
Tools & Utensils:
Thermometer 

(

must register below 100°F)
Two-ply cheese paper for wrapping your finished cheese.
Cheese mat for aging your cheese
Large spoon with horizontal surface to stir the milk like this 

one

  
1 gallon pot
Stove or heating element
Bin in which to age your cheese - this is the one I use (please note, this is an Amazon affiliate link for which I may earn commission)
Empty container to hold whey (at least 3 quarts - could be a pot or bowl)

Measuring spoons in the smallest size you can find (1/16 tsp, 1/8 tsp, 1/4 tsp etc)
Vegetable ash to cover your cheese (a là Humboldt Fog),
Spruce bark to wrap around your cheese (a là Harbison). 
Basic Class Supply Kit: I realize this class is fairly supply heavy so I've put together an easy kit containing the following for an additional $75. Please make sure you've also ordered an aging container, which I unfortunately don't sell. If you buy it from the above link I may receive a commission.
Receive a significant discount on this event and others by backing us on Patreon.
This is part of the FARMcurious Follow-Along Virtual Event (FAVE) Series - our response to the COVID-19 crisis. Thanks for helping to keep our lights on during this crisis.
Interested in a private cheesemaking or fermenting party in person or via Zoom? We now offer private events for birthdays, bachelorettes, etc. We also offer team-building workshops for businesses and special interest groups (like parent's clubs, scout troops, etc), all via Zoom.
We'll send each person a supply list ahead of time as well as recommendations on setting up your kitchen for a virtual cheesemaking workshop. We can even send supplies directly to each participant to make things easy. Contact Nicole directly for more information at nicole@farmcurious.com.
Please consider backing FARMcurious on Patreon
Do you love this sort of content? Patreon backers have the opportunity to see all of our content first. They also have first access to live-streaming workshops before we open them up to the public. At certain levels, workshops like this one are included in your membership. You can back us for as little at $5 a month so please check out our Patreon here.
---
Related Products
---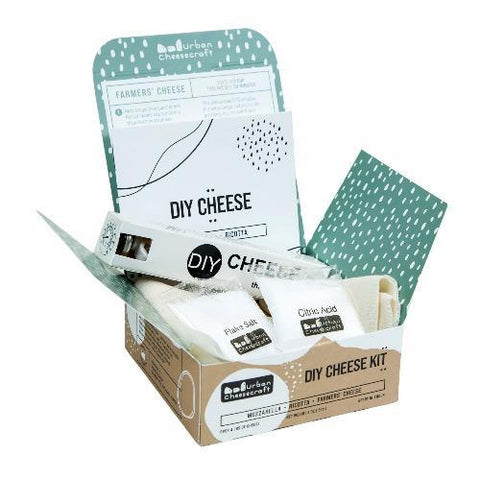 ---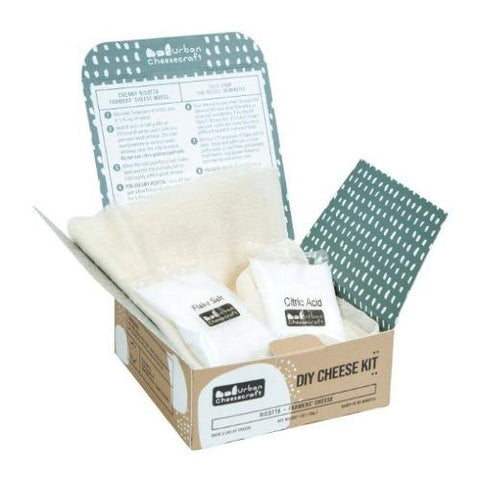 This Mini Cheese Kit from Urban Cheesecraft is the perfect starting point for beginners, kids and busy families. It is easy and quick to use but it is packed with fun and delicious possibilities.
$ 15.00
---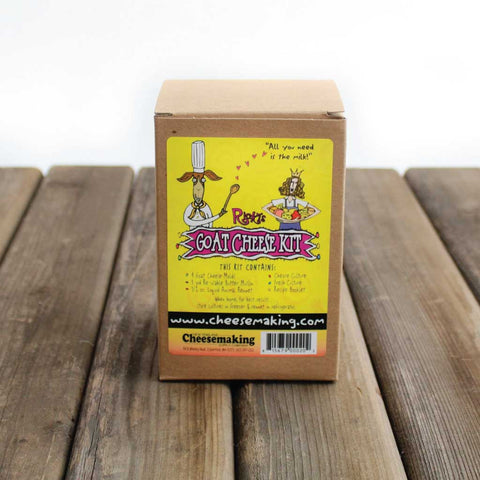 This goat cheese kit allows you to make the easiest, and most delicious fresh, creamy goat cheese you can imagine!
$ 29.95