Hit our two most popular cheesemaking classes all in one day! Learn to make brie and camembert in the morning then mozzarella, burrata and fresh chevre in the afternoon.
Part 1: Crafting Brie & Camembert at Home 11am-1:30pm
It's so easy!
Brie seems like the type of cheese that would be made by magical little elves in France. But it's actually one of the easiest cheeses to make at home with very little special equipment required!
Our most indulgent class!
While we wait for the curd to set, we spend a truly decadent hour sampling a collection of exquisite bries with velvety wine. Experience the variety available in this one cheese - from ash rinds to added ingredients like herbs or mushrooms, to using different milks like goat, sheep, or cow - there's so much to taste! 
We'll even teach you how to schedule brie making into your busy life.
Nicole will be your guide throughout the tasting, discussing what you're experiencing and how to recreate it as a home cheesemaker. 
Tiny brie wheels make a show-stopping gift 
Because you make 12 tiny wheels at a time, you'll have 12 instant gifts for the holidays! Give them as-is or wrap some in phyllo dough with a little jam for a very festive treat. Friends and family will delight in your new skill. We'll cover how to wrap the cheese and present it in the best way possible.
Includes instruction, tastings, recipes and edible homework.
Part 2: A Two-Hour Lunch Break
You're on your own for lunch and you can spend the time however you like but we recommend checking out Wally's Cafe for a very un-fancy but delicious Mediterranean & Lebanese meal (four blocks away & cash only) or Arizmendi, where you can get a delicious pizza slice (two blocks away). 
Part 2: Three Cheeses in Three Hours with Wine 3:30-6:30pm
Learn to make three more distinct and delicious types of cheese: mozzarella, chevre (fresh goat cheese) & burrata. During the class, you'll enjoy a fun sampling of economical red and white wine in this fast-paced, hands-on workshop. This three-hour class walks you through the history of cheesemaking, important facts about milk quality and differences as well as the complex biology and chemistry behind turning milk into tasty cheese curds and protein-rich whey.
Each group of students starts with their own gallon of milk and finesses it over the course of the class into rich, stretchy mozzarella. Enjoy some of your finished mozzarella, then we'll turn the rest into creamy, dreamy burrata. We'll also demonstrate in time-delay fashion how to craft a fresh, tangy goat cheese along with tips to make your goat cheese appear as several different types of artisanal cheeses through various preparation techniques. You'll gain all the knowledge needed to create your own cheese platter instead of buying store-bought cheeses. 
In case you were worried about going hungry, we'll be sampling cheese and delicious wine all along the way.
This workshop is taught by Nicole Easterday, the founder of FARMcurious. Nicole is an engaging teacher who encourages a fun, social environment while she explains what's happening in a very down-to-earth format. 
Attendees will leave this class with:
A new appreciation for the magic that is cheese
Confidence and knowledge to reproduce the same results at home.
Handouts including recipes, frequently asked questions, and resources.
Delicious, versatile whey we produce while making the cheese (don't worry, we'll explain how to use it - you can't wait, check out this blog post).
Ideas for a couple of fail-proof, economical wines to pair with cheese – never again at a loss before a dinner party!!
Edible homework from the brie portion to age over the following weeks to come.
This is the two-part cheese workshop you won't want to miss!
"I can't say enough great things about my FARMcurious class and its founder, Nicole. I'm a cheesemonger through and through and I loved every bit of Nicole's class. She diligently explains the science behind the process so that you aren't just following directions but understanding what makes cheese cheese. All the while she feeds you her own freshly made chevre and some wine. We made friends, learned a new culinary skill, and had a blast. It was delightful!" - Allison S.
YELP users love this class - check out more glowing reviews here.
Location: 4053 Harlan St, Ste 201 in Emeryville, California (right across the street from Pixar) - plenty of safe free parking available. Easy access to public transit -from MacArthur BART take the red or orange (Hollis or Hollis South) Emery-go-Round bus line two stops to Pixar studios. Walk half a block to our venue). 
Must be 21 or over to attend. Please see our cancellation policy here.
Sold out?? Try our waiting list! There may be available dates that aren't listed because they're sold out. If you book a ticket labeled "Waiting List" you will be added to the waiting list for the sold-out date. If we have last minute cancellations we will contact you to let you know. If you don't make it into the class for which you signed up on the waiting list you can choose a full refund or a transfer to another date. Call or email for more information on our waiting list (info@farmcurious.com or 510.877.9955)
Interested in a private party? We offer private events for birthdays, bachelorettes, etc. We also offer team-building workshops for businesses and special interest groups (like parent's clubs, scout troops, etc). Contact Nicole directly for more information at nicole@farmcurious.com.
---
Related Products
---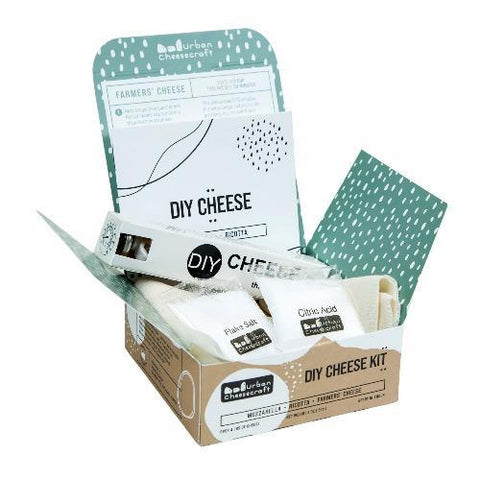 ---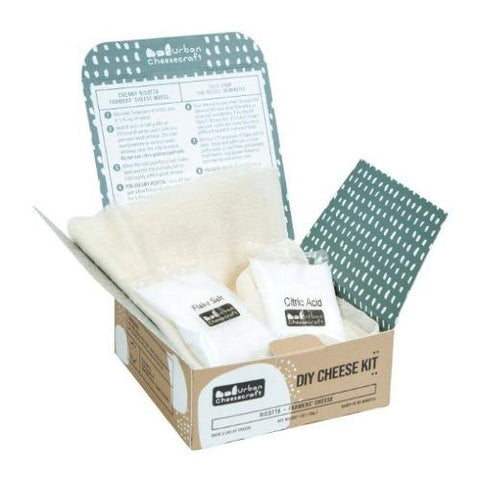 This Mini Cheese Kit from Urban Cheesecraft is the perfect starting point for beginners, kids and busy families. It is easy and quick to use but it is packed with fun and delicious possibilities.
$ 15.00
---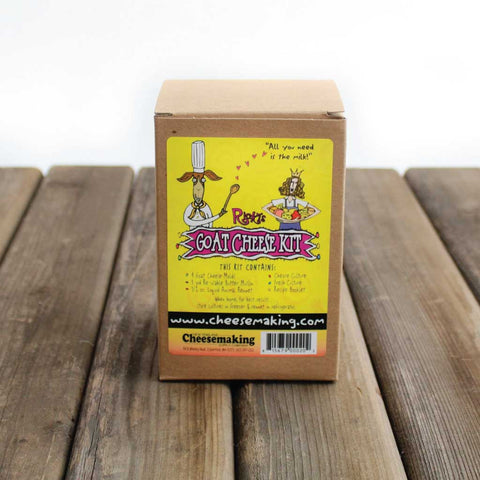 This goat cheese kit allows you to make the easiest, and most delicious fresh, creamy goat cheese you can imagine!
$ 29.95