Due to covid-related enrollment challenges, we are no longer offering public workshops. Please consider joining us for a private cheese event. If you have a group of friends (or work colleagues) who would like to learn together, it would be my pleasure to put together a proposal for you.  Email info@farmcurious.com You can read more about our closure here.
Indulge in some of the most decadent cheese and wine the world has to offer while you learn about how to taste and craft your own bloomy-rinded cheese (like brie and camembert) then learn to pair it with a sommelier-curated and terroir driven collection of fabulous wines.
Explore the world of bloomy-rinded cheese and the great variety available within this category with a hands- and mouths-on cheesemaking workshop and tasting tour of our favorite artisan cheeses, led by FARMcurious founder, Nicole Easterday. Then learn to pair these delightful cheeses with small production wines, complete with educational tasting. An experience to remember!
** NEW! Consider adding Virtual Add-On Days to perfect your cheesemaking journey. Dates that correspond with our virtual brie class have the option of adding virtual followup dates to their order. On virtual Day 2, we'll talk in-depth about cheese aging and virtual Day 3 we'll practice some cheese aging forensics and figure out how to hone our environment and skills to create the perfect brie. The class is still super fun without this but it's a nice addition for anyone who really wants to perfect their cheesemaking. Virtual follow-up dates listed below **
For the March 12 Workshop:
Virtual Day 2: Sun, March 13, 2022 from 11am-12pm
Virtual Day 3: Sat, March 26 2022 1:30-2:30pm (two-week check-in)


This option unavailable for the April 23rd workshop


For the May 21 Workshop:
Virtual Day 2: Sun, May 22, 2022 from 12:30-1:30pm
Virtual Day 2: Sat, June 4 from 10-11am 

(two-week check-in)



Just add the add-on dates to your cart and we'll send log-in information!
Learn to Make Your Own Brie at Home
Brie seems like the type of cheese that would be made by magical little elves in France. But it's actually one of the easiest cheeses to make at home with very little special equipment required! We'll show you how in this hands-on class, complete with edible homework.
Explore the World of Bloomy-Rinded Cheese
While we wait for the curd to set, we take a truly decadent tour of exquisite bries paired with wines. Experience the variety available in this one cheese - from ash rinds to added ingredients like herbs or mushrooms, to using different milks like goat, sheep, or cow - there's so much to taste! 
Nicole will be your guide throughout the cheese tasting, discussing what you're experiencing and how to recreate it as a home cheesemaker. 
Learn to Expertly Pair Your Cheese with Wine

Cheese and wine go hand-in-hand and this class was designed to celebrate their marriage. Learn how to do a beautiful terroir-driven pairing along with some stories behind excellent wines.
Tiny brie wheels make a show-stopping gift! 
Ticket price includes instruction, tastings, recipes and edible homework.
(CLICK HERE for Cheese Boot Camp - 2 classes in one day)
Supplies Required:  Nothing is required but you can bring a quart-size container to take some some liquid whey (we'll explain what to do with it!).
Location: Classes are held at 825 Bancroft Way, Berkeley, CA unless otherwise noted.
If you use Facebook, be sure to join our event here to access photos and messages about class.
About our groups:
Proof of vaccination is currently required for all guests. Choose from these group options:
Personal Pods

 

- This is a private table for you plus up to 5 of your friends in a pod (read about our pods here). Each pod will have its own table and shared pot so you'll want to bring friends you're comfortable sharing food with. Everyone must show proof of vaccination.
Shared Tables

 

- If you are unable to secure your own pod and you feel completely comfortable sharing a pot of cheese with a small group of vaccinated strangers, this option might be for you. Please keep in mind each person in your group will be in relatively close quarters, manipulating the cheese together. We'll make every effort to keep it clean and sanitary but you're still sharing. 

 

Everyone must show proof of vaccination.
Terms and Conditions - By attending a FARMcurious event, you agree to our Terms and Conditions.
COVID-related information:
Proof of vaccination status will be required to participate. Please note, we'll make every reasonable attempt to verify vaccination status of each person in your group, but we ask you to realize it's not a perfect system and any risk related to attending this activity is your own.
We run the class with windows open (weather permitting) and HEPA filters constantly circulating the air.
Please note that all attendees must be masked at all times except when actively taking a bite of cheese or taking a drink. Please stay home if you have a fever, are experiencing any COVID-like symptoms for may have been exposed to someone diagnosed with COVID-19.
Must be 21 or over to attend. Please see our cancellation policy here.

Sold out?? Try our waiting list! There may be available dates that aren't listed because they're sold out. If you book a ticket labeled "Waiting List" you will be added to the waiting list for the sold-out date. If we have last minute cancellations we will contact you to let you know. If you don't make it into the class for which you signed up on the waiting list you can choose a full refund or a transfer to another date. Call or email for more information on our waiting list (info@farmcurious.com or 510.877.9955)
Interested in a private party? We offer private events for birthdays, bachelorettes, etc. We also offer team-building workshops for businesses and special interest groups (like parent's clubs, scout troops, etc). Contact Nicole directly for more information at nicole@farmcurious.com.
---
Related Products
---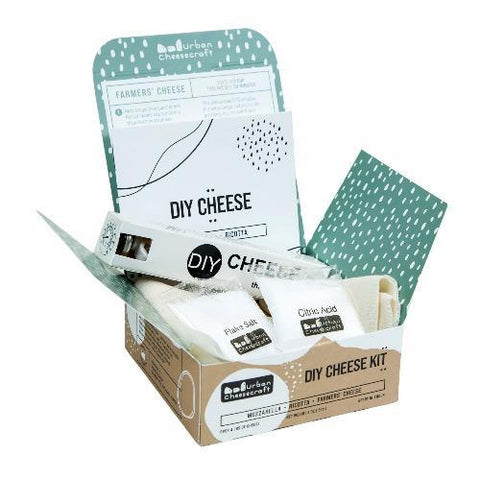 ---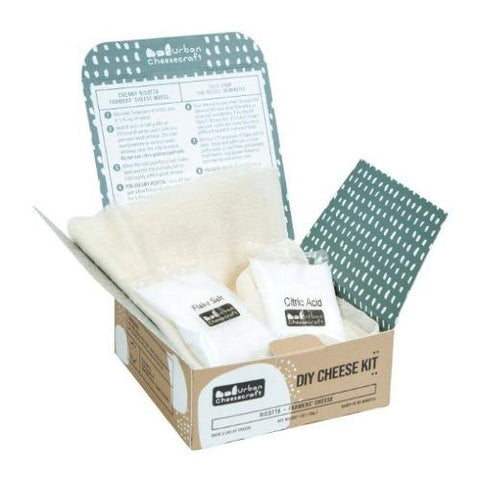 This Mini Cheese Kit from Urban Cheesecraft is the perfect starting point for beginners, kids and busy families. It is easy and quick to use but it is packed with fun and delicious possibilities.
$ 15.00
---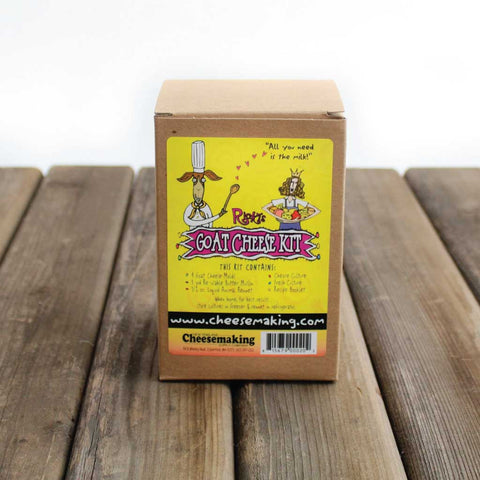 This goat cheese kit allows you to make the easiest, and most delicious fresh, creamy goat cheese you can imagine!
$ 29.95